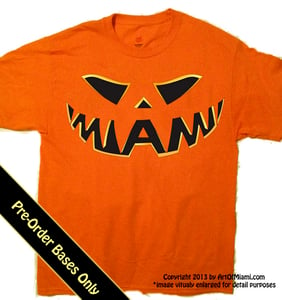 $

12.99
Who doesn't like the Fall in Miami? The leafs are not falling and clogging your engine's intake. The weather feels like there is a huge A/C outside. And the best two Holidays take place, Halloween and Thanksgiving. Yes, we consider Halloween a Holiday in the M.I.A. Specially the women. They take a holiday break from conservative attire to promote the results from hard work at the gym. Or good genes.
This Miami themed Jack-0-lantern T-shirt will make anyone take a double look. The clever design features the MIAMI tag on the gleeful smile of a carved pumpkin. Perfect to represent Miami at the many Fall events taking place around town. Or out of town, like at Halloween Horror Nights. But if you are going to do that, please don't let yourself get spooked out in Orlando. You'll make us look bad.
Buy 2 or more and shipping and handling is FREE on the rest
Not available in stores. Exclusively designed and trademarked by ArtofMiami.com. Available for a limited time. This is a pre-order. All sales will ship October 1st or money back.
Purchases are 100% guaranteed and risk free via Paypal's safe and secure purchasing format. Customers, you will not be charged until items are delivered to your door.
Follow us on social Media for updates and promo codes @ArtOfMiami Use Hashtags:#ArtofMiami and #MiamiJackOLantern to share your pics with our T-Shirt